The NHAI (National Highways Authority of India has directed all toll plaza in India to go digital for collecting toll tax to reduce road traffic and long queue at the toll plaza. There is a mandatory requirement for all the vehicles to have a FASTag RFID tag on their vehicle so that the tax would be deducted from the account directly. In this article, I will discuss the detailed process of applying the ICICI FASTag account and how to recharge the account.
What is FASTag?
FASTag is the electronic toll collection system through which the toll tax has been deducted directly from your FASTag account. So you don't have to stand in a long queue at the toll tax booth on the highways.
FASTag uses a wireless RFID tag that is pasted on your car's windscreen, as you approach the toll tax the RFID tag will be scanned and the toll tax will be deducted from your prepaid account.
This is now a mandatory system at the toll tax for collecting the tax. If you don't have the FASTag account then you will have to pay the double tax as a penalty.
A public circular from the Road Ministry said that from December 1, all highway toll plazas will be converted to the Fastag system. This means that there will be no cash payment after the system is implemented. And you have to fast-start this system. You can get this FASTag from any bank or online. Whose every process is quite simple.
I have written a detailed article on What is FASTag and how to apply online?
How to get ICICI FASTag account?
There are four ways by which you can get the ICICI FASTag account,
Online application
Offline Application
Through SMS
Through Call
ICICI FASTag – Online Application
Visit the ICICI Bank FASTag Page
Click on the Apply now button
Select your ID proof from the list
Enter your ID proof number
Enter your personal basic details and upload your ID proof
Click on the "Continue" button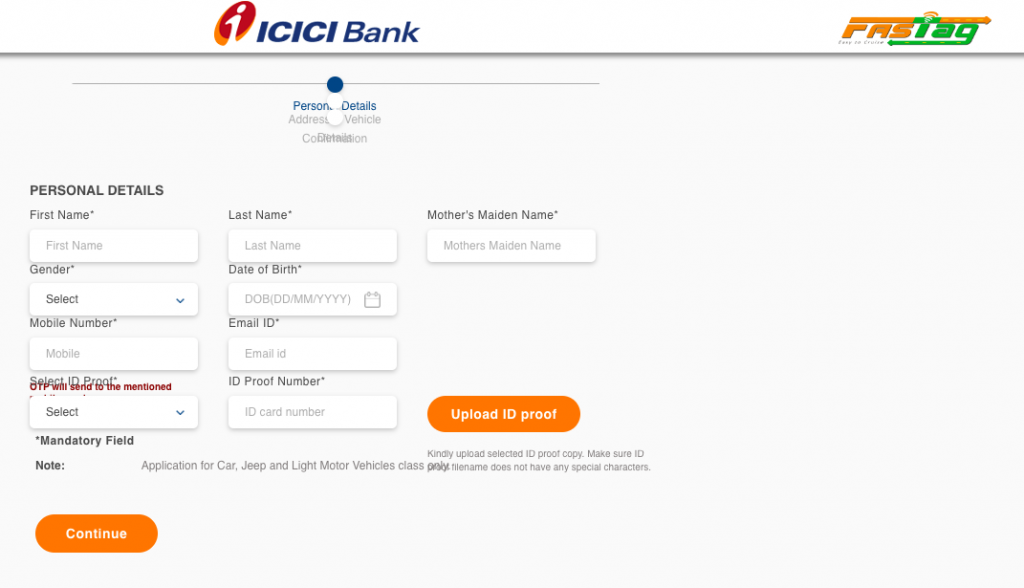 On the next screen enter your vehicle details
Enter your address
Enter your Vehicle manufacturing company
Upload the RC book copy
Enter your mobile number
Enter the OPT you have received
Check the charges
Click on the "Next" button
On the next screen please verify all the details you have entered
Accept Terms and Conditions
Now proceed for payment
Pay the charges through your bank account
You are done. The FASTag online account opening process is completed. Now you will receive the physical FASTag card within a week at the address you have mentioned in the application.
ICICI FASTag – Offline Application
Visit the nearest ICICI bank branch office
Fill the application form
Attached the documents like driving license, address proof, passport size photo, vehicle RC book, etc.
Pay the account opening charges (you can give instruction to debit the charges to your bank account)
Documents required for ICICI FASTag account opening
Driving license
ID proof such as – Driving license, Voter card, Aadhaar card, PAN card
Latest Address proof such as – the Electricity bill, AMC tax bill, Landline telephone bill, etc.
Recent Passport size photo
Vehicle RC book (original for verification)
ICICI FASTag – Through SMS
If you are too lazy, here is a piece of good news for you. Get your ICICI FASTag account opening just by sending below SMS to 5676766 – ICICI Bank. The bank representative will contact you within 2 working days.
SMS text: ITOLL(Space)PIN Code(Space)Name
For example, ITOLL 380015 Vishal Jhaveri
Send SMS to 5676766
ICICI FASTag – Through Call
Call the ICICI Bank customer care on Toll-free No: 1800 210 0104
Call the call center from your registered mobile number and they will take your request for account opening. The sales team will then give you a callback and fix the appointment. They will also explain the basic documents required for account opening so that you are prepared when the bank executive visits your place.
Benefits of ICICI FASTag Account
Saves Time and fuel at the toll booth
Get the instant SMS alert when the amount is deducted from the account
Get 2.5% cashback on the transaction amount
Easy and fast recharge of your FASTag account online
ICICI FASTag mobile app
Various payment method for account recharge
Dedicated web portal for ICICI customers to access the FASTag ICICI account
How to Login to the ICICI FASTag account online?
Visit ICICI FASTag Customer Login page
Select Individual or Corporate Login
On the next screen select the option for login i.e. via username or mobile number
Enter the registered mobile number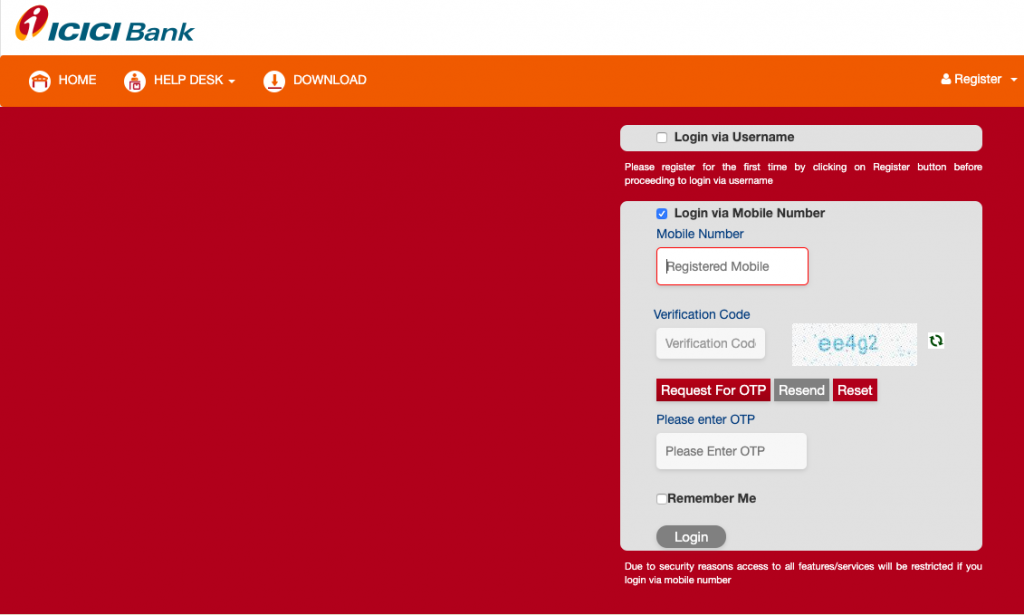 Enter the verification code displayed on the right side
Click on the "Request for OTP" button
OTP will be sent to the registered mobile number
Enter the 8 digit OTP that you have received
Accept Terms and condition (for 1st-time login only)
You will now see your account summary page
This page has all the details of your FASTag account like,
Name
Address
FASTag customer ID
Address, Account balance
Vehicle number
Tag account number
Tag serial number
Account status
On the next tab "Statment & Activity" you can see your account statement for as on date. Click on the generate statement and your online account statement will be generated.
You can download the account statement by clicking on the "Download Statement" button.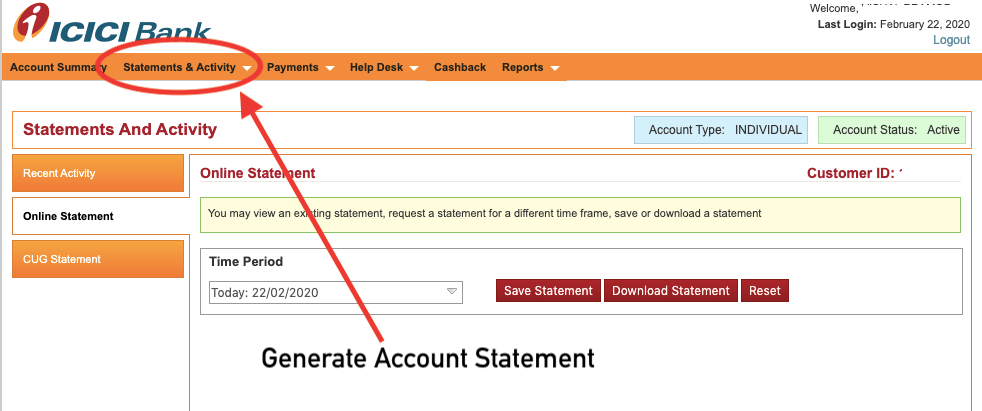 Recharge FASTag ICICI Account online
You can recharge your account as well by going to the next tab i.e. "Payments"
Select the account you want to recharge.
Enter the amount for which you want to recharge your account
Verify the details and select the payment option
You can pay via ICICI bank account or credit card
You will get the confirmation SMS on successful recharge
You can transfer the account balance to another FASTag account from the option "Transfer Balance"
There is an option for giving standing instruction at the regular interval so that every time you don't have to log in and recharge your FASTag account.
FASTag Fees
Charges applicable on FASTag
| PARTICULARS | AMOUNT (INR) |
| --- | --- |
| Tag Joining Fee* | Rs. 99.12 (including GST) |
One – time tag deposit amount
| Tag Class | Description | Tag Colour | Tag Deposit | Threshold amount |
| --- | --- | --- | --- | --- |
| 4 | Car / Jeep / Van | Violet | 200 | 200 |
| 4 | TATA Ace and similar mini Light Commercial Vehicle | Violet | 200 | 100 |
| 5 | Light Commercial Vehicle / Mini Bus | Orange | 300 | 140 |
| 6 | Bus 3 Axle | Yellow | 400 | 300 |
| 6 | Truck 3 Axle | Yellow | 500 | 300 |
| 7 | Bus 2 Axle / Truck 2 Axle | Green | 400 | 300 |
| 12 | Tractor / Tractor with trailer / Truck 4/ 5/ 6 Axle | Pink | 500 | 300 |
| 15 | Truck 7 Axle and above | Blue | 500 | 300 |
| 16 | Earth Moving / Heavy Construction Machinery | Black | 500 | 300 |
Here are the convenience charges are taken by the ICICI bank for account recharge through various payment modes.
| Payment Option | Applicable Amount |
| --- | --- |
| ICICI Bank CIB and RIB | Free |
| UPI | Free |
| Debit Card | 0.2% to 0.85% of the transaction value |
| Credit Card | 1.8% of the transaction value |
| Internet Banking | 1% to 1.65% of the transaction value |
| NEFT | CUG wallet recharge: Free or NEFT/RTGS charged as levied by the source banking wallet recharge: Rs.15 per transaction for Tag level recharge |
| Cheque | Free |
eToll By ICICI Bank
eToll is the mobile app developed by ICICI Bank for using its FASTag account. The app is available on the Play store. You can download the same and log in via the online method as mentioned above.
For iOS users, they have to wait a bit more. The mobile app for the iPhone is still under construction.
The features of eToll are
• Recharge you FASTag anytime anywhere with convenient recharge options- internet banking, payment gateway
• Fast and secure OTP based login
• View and transact on all your FASTags
• Check balance and generate the statement
• Find toll fare for trips
List of the ICICI Bank Active Toll Plaza
| | | | | | |
| --- | --- | --- | --- | --- | --- |
| Sl. No. | Plaza Code | Plaza Name | Plaza City | Plaza State | Plaza Type |
| 1 | 1002 | L&T Vadodra | Vadodara | Gujarat | National |
| 2 | 2001 | IRB Boriach | Navsari | Gujarat | National |
| 3 | 2002 | IRB Charoti | Palghar | Maharashtra | National |
| 4 | 2003 | IRB Bhagwada | Valsad | Gujarat | National |
| 5 | 2004 | IRB Choryasi | Surat | Gujarat | National |
| 6 | 2005 | Ahmedabad Toll Plaza | Ahmedabad | Gujarat | National |
| 7 | 2006 | Ahmedabad (Ring Road) Toll Plaza | Ahmedabad | Gujarat | National |
| 8 | 2007 | Nadiad Toll Plaza | Kheda | Gujarat | National |
| 9 | 2008 | Anand Toll Plaza | Anand | Gujarat | National |
| 10 | 2009 | Vadodara Toll Plaza | Vadodara | Gujarat | National |
| 11 | 2011 | Kheda | Kheda | Gujarat | National |
| 12 | 2012 | Vasad | Anand | Gujarat | National |
| 13 | 6001 | Gegal | Ajmer | Rajasthan | National |
| 14 | 6002 | Pipalaz | Ajmer | Rajasthan | National |
| 15 | 8001 | Jaipur Plaza | Jaipur | Rajasthan | National |
| 16 | 8002 | Kishangarh Plaza | Ajmer | Rajasthan | National |
| 17 | 9001 | Shahjahanpur Toll Plaza | Alwar | Rajasthan | National |
| 18 | 9002 | Manoharpura Toll plaza | Jaipur | Rajasthan | National |
| 19 | 9003 | Daulatpura Toll Plaza | Jaipur | Rajasthan | National |
| 20 | 10001 | Kavalias Toll Plaza | Bhilwara | Rajasthan | National |
| 21 | 10003 | Rithola Toll Plaza | Chittaurgarh | Rajasthan | National |
| 22 | 10004 | Narayanpura Toll Plaza | Udaipur | Rajasthan | National |
| 23 | 10008 | Kathpur Toll Plaza | Sabarkatha | Gujarat | National |
| 24 | 13001 | SriPerumbadur | Kanchipuram | Tamil Nadu | National |
| 25 | 13002 | Chennasamaduram | Vellore | Tamil Nadu | National |
| 26 | 14001 | Ambala Chandigarh | Sahibzada Ajit Singh Nagar | Punjab | National |
| 27 | 15001 | Pantangi | Nalgonda | Telangana | National |
| 28 | 15002 | Koralaphad | Nalgonda | Telangana | National |
| 29 | 15003 | Chillakallu | Krishna | Andhra Pradesh | National |
| 30 | 16001 | Vanagiri | Koppal | Karnataka | National |
| 31 | 16002 | Shahapur | Koppal | Karnataka | National |
| 32 | 16003 | Hitnal | Koppal | Karnataka | National |
| 33 | 17001 | Karjeevanhally Toll Plaza | Tumkur | Karnataka | National |
| 34 | 17002 | Guilalu Toll Plaza | Chitradurga | Karnataka | National |
| 35 | 18001 | Vikkravandi Toll Plaza | Villupuram | Tamil Nadu | National |
| 36 | 19001 | SENGURICHI TOLL PLAZA | Villupuram | Tamil Nadu | National |
| 37 | 19002 | THIRUMANDURAI TOLL PLAZA | Perambalur | Tamil Nadu | National |
| 38 | 21001 | Amakthadu toll plaza | Kurnool | Andhra Pradesh | National |
| 39 | 21002 | Kasepalli toll plaza | Anantapuram | Andhra Pradesh | National |
| 40 | 21003 | Marur toll plaza | Anantapuram | Andhra Pradesh | National |
| 41 | 22001 | Kappalur | Madurai | Tamil Nadu | National |
| 42 | 22003 | Salaipudur | Thoothukudi | Tamil Nadu | National |
| 43 | 23001 | Nandgaon Toll Plaza | Amravati | Maharashtra | National |
| 44 | 24001 | MANSAR TOLL PLAZA | Nagpur | Maharashtra | National |
| 45 | 24002 | KAMPTEE KANHAN BYPASS CHECK TOLL PLAZA | Nagpur | Maharashtra | National |
| 46 | 24003 | NAGPUR BYPASS CHECK TOLL PLAZA | Nagpur | Maharashtra | National |
| 47 | 24004 | BORKHEDI TOLL PLAZA | Wardha | Maharashtra | National |
| 48 | 25001 | Karanja Toll Plaza | Wardha | Maharashtra | National |
| 49 | 26001 | Korai Toll Plaza | Agra | Uttar Pradesh | National |
| 50 | 27001 | Khalghat Toll Plaza | Dhar | Madhya Pradesh | National |
| 51 | 28001 | Barajore toll plaza | Kanpur Dehat | Uttar Pradesh | National |
| 52 | 28002 | Anantram Toll Plaza | Auraiya | Uttar Pradesh | National |
| 53 | 31001 | Barkheda Toll Plaza | Jaipur | Rajasthan | National |
| 54 | 31002 | Sonwa Toll Plaza | Tonk | Rajasthan | National |
| 55 | 33001 | Daffi Toll Plaza | Varanasi | Uttar Pradesh | National |
| 56 | 33002 | Mohania Toll Plaza | Kaimur | Bihar | National |
| 57 | 33003 | Sasaram Toll Plaza | Rohtas | Bihar | National |
| 58 | 34001 | Raikal Toll Plaza | Mahabubnagar | Telangana | National |
| 59 | 36001 | Samayapuram Toll Plaza | Tiruchirappalli | Tamil Nadu | National |
| 60 | 39001 | L&T PANIPAT | Panipat | Haryana | National |
| 61 | 40001 | Khaniwade Toll Plaza | Palghar | Maharashtra | National |
| 62 | 42001 | Vijayamangalam Toll Plaza | Erode | Tamil Nadu | National |
| 63 | 44001 | TASAWADE TOLL PLAZA | Satara | Maharashtra | National |
| 64 | 44002 | Kini Toll Plaza | Kolhapur | Maharashtra | National |
| 65 | 45001 | Guduru Toll Plaza | Nalgonda | Telangana | National |
| 66 | 46001 | Bijapur Toll Plaza | Bijapur | Karnataka | National |
| 67 | 46002 | Nagarhalla Toll Plaza | Bagalkot | Karnataka | National |
| 68 | 47001 | Tatiawas Toll Plaza | Jaipur | Rajasthan | National |
| 69 | 48001 | Sullurpet Plaza (NH- 16), (old NH-5) | Nellore | Andhra Pradesh | National |
| 70 | 48002 | Budhanam Plaza (NH- 16),(old NH-5) | Nellore | Andhra Pradesh | National |
| 71 | 48003 | Nellore Plaza (NH- 16), (old NH-5) | Nellore | Andhra Pradesh | National |
| 72 | 48004 | Keesara Plaza (NH-65), (old NH-9) | Vijaywada | Andhra Pradesh | National |
| 73 | 49001 | Kaza Toll Plaza Mangalgiri | Guntur | Andhra Pradesh | National |
| 74 | 53001 | Gondkhairi Plaza | Nagpur | Maharashtra | National |
| 75 | 54001 | Patas Plaza | Pune | Maharashtra | National |
| 76 | 54002 | Sardewadi Plaza | Raigad | Maharashtra | National |
| 77 | 55001 | Ponnambalapatti Plaza | Tiruchirappalli | Tamil Nadu | National |
| 78 | 56001 | Kozhinjiipatti Plaza | Dindigul | Tamil Nadu | National |
| 79 | 57001 | Rasampalayam Plaza | Namakkal | Tamil Nadu | National |
| 80 | 58001 | Mettupatti Plaza | Salem | Tamil Nadu | National |
| 81 | 58002 | Nathakkarai Plaza | Salem | Tamil Nadu | National |
| 82 | 59001 | Thiruparaithurai Plaza | Tiruchirappalli | Tamil Nadu | National |
| 83 | 59002 | Manavasi Plaza | Karur | Tamil Nadu | National |
| 84 | 60001 | Krishnagiri Plaza | Krishnagiri | Tamil Nadu | National |
| 85 | 61001 | Anewadi Toll Plaza | Satara | Maharashtra | National |
| 86 | 61002 | Khed-Shivapur Toll Plaza | Pune | Maharashtra | National |
| 87 | 62001 | Srinagar Toll Plaza | Palwal | Haryana | National |
| 88 | 62002 | Mahuvan Toll Plaza | Mathura | Uttar Pradesh | National |
| 89 | 63101 | Bellupada | Icchapuram | Andhra Pradesh | National |
| 90 | 68001 | Agnampadi | Vishakhapatnam | Andhra Pradesh | National |
| 91 | 72002 | Pottipadu | Krishna | Andhra Pradesh | National |
| 92 | 73001 | Bollapalli Toll Plaza | Prakasam | Andhra Pradesh | National |
| 93 | 73002 | Tangatur Toll Plaza | Prakasam | Andhra Pradesh | National |
| 94 | 73003 | Musunur Toll Plaza | Nellore | Andhra Pradesh | National |
| 95 | 74001 | Pippalwada | Adilabad | Telangana | National |
| 96 | 78001 | Indalwai | Nizamabad | Telangana | National |
| 97 | 79001 | Sakapur Toll plaza | Mahabubnagar | Telangana | National |
| 98 | 90002 | Kharik | Bhagalpur | Bihar | National |
| 99 | 100001 | Samakhiali | Kutch | Gujarat | National |
| 100 | 104001 | Makrauli Kalan Toll Plaza | Rohtak | Haryana | National |
| 101 | 104002 | Dahar Toll Plaza | Panipat | Haryana | National |
| 102 | 107002 | Ghanghri Toll Plaza | Giridih | Jharkhand | National |
| 103 | 109001 | Kognoli | Belagavi | Karnataka | National |
| 104 | 116001 | Plaza 1 @ Km 14+825 | Bangalore Rural | Karnataka | National |
| 105 | 116003 | Devanahalli Toll Plaza | Bangalore Rural | Karnataka | National |
| 106 | 120002 | Kadabhalli (Kirasave) Toll Plaza | Mandya | Karnataka | National |
| 107 | 125002 | Choundha | Morena | Madhya Pradesh | National |
| 108 | 125003 | Baretha or Jajau | Agra | Uttar Pradesh | National |
| 109 | 126001 | Mehra | Gwalior | Madhya Pradesh | National |
| 110 | 127003 | Titarpani | Sagar | Madhya Pradesh | National |
| 111 | 127004 | Bakori | Damoh | Madhya Pradesh | National |
| 112 | 129001 | Ramnagar | Shivpuri | Madhya Pradesh | National |
| 113 | 129002 | Raksha | Jhansi | Uttar Pradesh | National |
| 114 | 130001 | Guna | Guna | Madhya Pradesh | National |
| 115 | 131001 | Jamli Toll Pllaza | Barwani | Madhya Pradesh | National |
| 116 | 134002 | Daroada | Wardha | Maharashtra | National |
| 117 | 138001 | Sendurwafa toll plaza | Bhandara | Maharashtra | National |
| 118 | 139001 | Shirpur | Dhule | Maharashtra | National |
| 119 | 139002 | Songir | Dhule | Maharashtra | National |
| 120 | 140001 | Chandwad toll plaza | Nashik | Maharashtra | National |
| 121 | 140002 | Laling toll plaza | Dhule | Maharashtra | National |
| 122 | 142001 | Ghoti toll plaza | Nashik | Maharashtra | National |
| 123 | 142002 | Arjunalli toll plaza | Thane | Maharashtra | National |
| 124 | 148001 | Manguli Toll Plaza | Cuttack | Odisha | National |
| 125 | 152001 | Srirampur toll plaza | Jajpur | Odisha | National |
| 126 | 154001 | Gharonda Toll Plaza | Karnal | Haryana | National |
| 127 | 155001 | Chandimandir Toll Plaza | Panchkula | Haryana | National |
| 128 | 157001 | BSC-C&C Kurali Toll Plaza | Rupnagar | Punjab | National |
| 129 | 158001 | Harsa Mansar Toll Plaza | Hoshiarpur | Punjab | National |
| 130 | 161001 | Bassi | Chittaurgarh | Rajasthan | National |
| 131 | 161002 | Aroli | Bhilwara | Rajasthan | National |
| 132 | 161003 | Dhaneshwar | Bundi | Rajasthan | National |
| 133 | 162001 | Malera | Sirohi | Rajasthan | National |
| 134 | 162002 | Gogunda | Udaipur | Rajasthan | National |
| 135 | 164001 | Sikandra Toll Plaza | Dausa | Rajasthan | National |
| 136 | 164002 | Rajadhok Toll Plaza | Jaipur | Rajasthan | National |
| 137 | 165001 | Mundiyar | Baran | Rajasthan | National |
| 138 | 166001 | Akhepura | Sikar | Rajasthan | National |
| 139 | 167001 | Vaniyambadi Toll Plaza | Vellore | Tamil Nadu | National |
| 140 | 167002 | Pallikonda Toll Plaza | Vellore | Tamil Nadu | National |
| 141 | 169001 | L&T Krishnagiri Thopur Toll Plaza | Dharmapuri | Tamil Nadu | National |
| 142 | 170001 | Velanchettiyur | Dindigul | Tamil Nadu | National |
| 143 | 173001 | Paranur | Kanchipuram | Tamil Nadu | National |
| 144 | 176001 | Valvanthankottai | Tiruchirappalli | Tamil Nadu | National |
| 145 | 176002 | Elliyarpathy | Virudhunagar | Tamil Nadu | National |
| 146 | 176003 | Pudurpandiyapuram | Thoothukudi | Tamil Nadu | National |
| 147 | 178001 | Lembalakudi | Pudukkottai | Tamil Nadu | National |
| 148 | 178002 | Lechchumanapatti | Pudukkottai | Tamil Nadu | National |
| 149 | 180001 | Tundla Toll Plaza | Firozabad | Uttar Pradesh | National |
| 150 | 180002 | Gurau (Formerly Semra Atikabad) Toll Plaza | Firozabad | Uttar Pradesh | National |
| 151 | 181002 | Vighakhet Toll Plaza | Lalitpur | Uttar Pradesh | National |
| 152 | 188001 | Chamari Toll Plaza | Jalaun | Uttar Pradesh | National |
| 153 | 189001 | AIT Toll Plaza | Jalaun | Uttar Pradesh | National |
| 154 | 190001 | SEMRI Toll Plaza | Jhansi | Uttar Pradesh | National |
| 155 | 191001 | Dasna Toll plaza | Ghaziabad | Uttar Pradesh | National |
| 156 | 193001 | Brijghat Toll Plaza | Hapur | Uttar Pradesh | National |
| 157 | 196001 | Itaunja Toll Plaza | Sitapur | Uttar Pradesh | National |
| 158 | 197001 | Khairabad Toll Plaza | Sitapur | Uttar Pradesh | National |
| 159 | 199001 | KOKHRAJ (Sirohi) Toll Plaza | Kaushambi | Uttar Pradesh | National |
| 160 | 199002 | HANDIYA (Sujala ) Toll Plaza | Allahabad | Uttar Pradesh | National |
| 161 | 199003 | Nawabganj Toll Plaza | Allahabad | Uttar Pradesh | National |
| 162 | 199004 | SORAON Toll Plaza | Allahabad | Uttar Pradesh | National |
| 163 | 199005 | SAHSON Toll Plaza | Allahabad | Uttar Pradesh | National |
| 164 | 203001 | Palsit | Bardhaman | West Bengal | National |
| 165 | 203002 | Dankuni | Hooghly | West Bengal | National |
| 166 | 204001 | Rajchandrapur Toll Plaza | Howrah | West Bengal | National |
| 167 | 205001 | Jaladhulagori toll plaza | Howrah | West Bengal | National |
| 168 | 205002 | Debra toll plaza | West Medinipur | West Bengal | National |
| 169 | 207001 | Surjapur | Uttar Dinajpur | West Bengal | National |
| 170 | 208001 | Sonapetya | Purba Medinipur | West Bengal | National |
| 171 | 210001 | Chandermore Plaza | Murshidabad | West Bengal | National |
| 172 | 210002 | Shibpur Plaza | Murshidabad | West Bengal | National |
| 173 | 211001 | Barsoni Toll Plaza | Purnia | Bihar | National |
| 174 | 214002 | Milanpur Toll Plaza | Betul | Madhya Pradesh | National |
| 175 | 216001 | Sivaya Toll Plaza | Meerut | Uttar Pradesh | National |
| 176 | 217002 | Mandal Toll Plaza | Tapi | Gujarat | National |
| 177 | 218001 | Dakhina Shekpur Toll Plaza | Rae Bareli | Uttar Pradesh | National |
| 178 | 220001 | Raipur | Pali | Rajasthan | National |
| 179 | 220002 | Indranagar | Pali | Rajasthan | National |
| 180 | 220003 | BIRAMI | Pali | Rajasthan | National |
| 181 | 220004 | UTHMAN | Sirohi | Rajasthan | National |
| 182 | 230001 | IVRCL Chengapally Tollways Limited | Tiruppur | Tamil Nadu | National |
| 183 | 231001 | Methoon Toll Plaza | Jhalawar | Rajasthan | National |
| 184 | 233001 | Kishorepura Toll Plaza | Kota | Rajasthan | National |
| 185 | 234002 | Chagalmarri Toll Plaza | Kurnool | Andhra Pradesh | National |
| 186 | 235001 | Mandawara Toll Plaza | Rajsamand | Rajasthan | National |
| 187 | 235002 | Negadiya Toll Plaza | Rajsamand | Rajasthan | National |
| 188 | 238001 | Chikhalikala | Betul | Madhya Pradesh | National |
| 189 | 239001 | Kelwad | Nagpur | Maharashtra | National |
| 190 | 239100 | LUHARLI Toll plaza | Gautam Buddh Nagar | Uttar Pradesh | National |
| 191 | 239101 | GABHANA Tollplaza | Aligarh | Uttar Pradesh | National |
| 192 | 239300 | Unguturu Toll Plaza | West Godavari | Andhra Pradesh | National |
| 193 | 239500 | Surathkal Toll Plaza | Dakshina Kannada | Karnataka | National |
| 194 | 239700 | PamPamPallam Toll Plaza | Palakkad | Kerala | National |
| 195 | 239800 | Balgudar Toll Plaza | Lakhisarai | Bihar | National |
| 196 | 240000 | Patanswangi Toll Plaza | Nagpur | Maharashtra | National |
| 197 | 241200 | Bhiknoor Toll Plaza | Nizamabad | Telangana | National |
| 198 | 241300 | Runni Shaidpur Toll Plaza | Sitamarhi | Bihar | National |
| 199 | 241400 | Guabari Toll Plaza | Alipurduar | West Bengal | National |
| 200 | 241800 | Nuruddinpur toll plaza | Amethi | Uttar Pradesh | National |
| 201 | 241801 | Kunwarpur | Jaunpur | Uttar Pradesh | National |
| 202 | 241900 | Lakholi Toll Plaza | Raipur | Chhattisgarh | National |
| 203 | 242000 | Madina Toll Plaza | Rohtak | Haryana | National |
| 204 | 242001 | Mayar Toll Plaza | Hisar | Haryana | National |
| 205 | 120001 | Shantigrama Toll Plaza | Hassan | Karnataka | National |
| 206 | 213001 | Gadoi Toll Plaza | Junagadh | Gujarat | National |
| 207 | 213002 | Dari Toll Plaza | Gir Somnath | Gujarat | National |
| 208 | 217001 | Bhatia Toll Plaza | Surat | Gujarat | National |
| 209 | 144001 | Diengpasoh Toll Plaza | Ri-Bhoi | Meghalaya | National |
| 210 | 237001 | Pahammawlein Toll Plaza | Ri-Bhoi | Meghalaya | National |
| 211 | 239600 | Nangli Toll Plaza | Ri-Bhoi | Meghalaya | National |
| 212 | 106001 | Bann Toll Plaza | Udhampur | J&K | National |
| 213 | 244000 | 18th Mile Toll Plaza | Ri-Bhoi | Meghalaya | National |
| 214 | 244001 | Gazole Toll Plaza | Ri-Bhoi | Meghalaya | National |
| 215 | 5001 | Shedung Toll Plaza | Shedung | Maharashtra | State |
| 216 | 5002 | Khalapur Toll Plaza | Khalapur | Maharashtra | State |
| 217 | 5004 | Kusgaon Toll Plaza | Kusgaon | Maharashtra | State |
| 218 | 5005 | Talegaon Toll Plaza | Talegaon | Maharashtra | State |
| 219 | 245001 | SONWAY Toll Plaza | Indore | Madhya Pradesh | National |
| 220 | 550001 | Kokapet | Hyderabad | Telangana | State |
| 221 | 550002 | Edulanagulapally | Hyderabad | Telangana | State |
| 222 | 550003 | Patancheru | Hyderabad | Telangana | State |
| 223 | 550004 | Sultanpur | Hyderabad | Telangana | State |
| 224 | 550005 | Dundigal | Hyderabad | Telangana | State |
| 225 | 550006 | Medchal | Hyderabad | Telangana | State |
| 226 | 550007 | Shamirpet | Hyderabad | Telangana | State |
| 227 | 550008 | Keesara | Hyderabad | Telangana | State |
| 228 | 550009 | Ghatkesar | Hyderabad | Telangana | State |
| 229 | 550010 | Taramatipet | Hyderabad | Telangana | State |
| 230 | 550011 | Pedda Amberpet | Hyderabad | Telangana | State |
| 231 | 550012 | Bongulur | Hyderabad | Telangana | State |
| 232 | 550013 | Ravi Ryal | Hyderabad | Telangana | State |
| 233 | 550014 | Tukkuguda | Hyderabad | Telangana | State |
| 234 | 550015 | Peddagolconda | Hyderabad | Telangana | State |
| 235 | 550016 | Shamshabad | Hyderabad | Telangana | State |
| 236 | 550017 | Rajendra Nagar | Hyderabad | Telangana | State |
| 237 | 550018 | TSPA | Hyderabad | Telangana | State |
| 238 | 550019 | Nanakramguda | Hyderabad | Telangana | State |
| 239 | 320013 | ALEP Main Plaza 21 | Fatehabad | Uttar Pradesh | State |
| 240 | 320014 | ALEP Ramp Plaza 27 | Fatehabad | Uttar Pradesh | State |
| 241 | 320015 | ALEP Ramp Plaza 54 | Shikohabad | Uttar Pradesh | State |
| 242 | 320016 | ALEP Ramp Plaza 77 | Etawah | Uttar Pradesh | State |
| 243 | 320017 | ALEP Ramp Plaza 92 | Saifai | Uttar Pradesh | State |
| 244 | 320018 | ALEP Ramp Plaza 108 | Etawah | Uttar Pradesh | State |
| 245 | 320019 | ALEP Ramp Plaza 116 | Etawah | Uttar Pradesh | State |
| 246 | 320020 | ALEP Ramp Plaza 154 | Saurikh | Uttar Pradesh | State |
| 247 | 320021 | ALEP Ramp Plaza 171 | Taki Gram | Uttar Pradesh | State |
| 248 | 320022 | ALEP Ramp Plaza 193 | Kannauj | Uttar Pradesh | State |
| 249 | 320023 | ALEP Ramp Plaza220 | Kanpur | Uttar Pradesh | State |
| 250 | 320024 | ALEP Ramp Plaza 238 | Unnao | Uttar Pradesh | State |
| 251 | 320025 | ALEP Main Plaza 290 | Lucknow | Uttar Pradesh | State |